Pioneer DJ snuck a new Rekordbox update past us the other week, quietly launching Rekordbox 5.4.0 into public beta on their forums. It's a smaller update compared to the spree of new features that they added earlier this year. Two features are particularly being championed in this update: "Traffic Light" style key compatibility displays in the Browsing area, and the ability to protect your library by locking out edits. Keep reading for the change log.
Rekordbox 5.4.0's New Features
This update has two new features that are worth calling out specifically that many DJs could find useful. First up, the Traffic Light display for finding similar keys.
A button was added to the header of the browser area of Rekordbox that highlights which tracks would go well with the track currently loaded. It's a really easy way to quickly mix in key and see what songs you might want to consider playing. To use this feature:
Select a target deck from the Traffic Light pull-down menu.
When you enable the Traffic Light function, keys "that go well with the track in the target deck" turn green.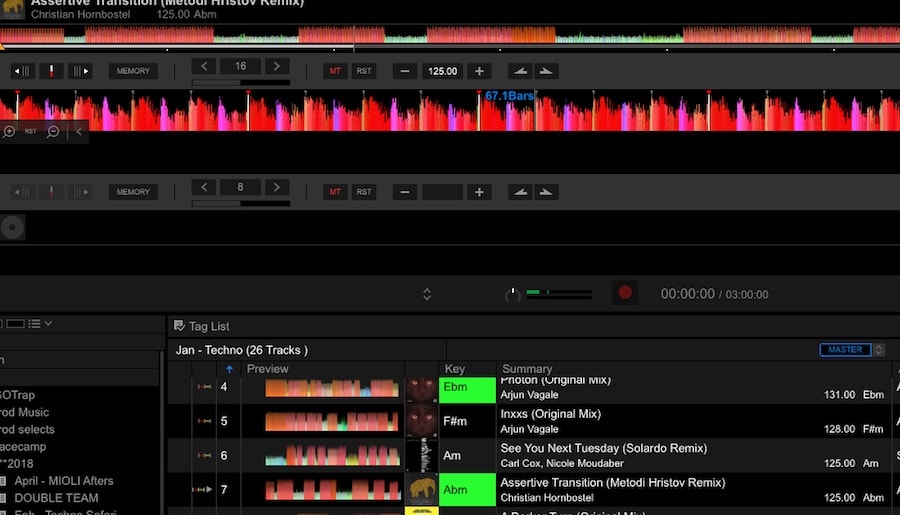 The Traffic Light display active in Rekordbox (yes, this works in both Export and Performance modes)
The other big feature Pioneer DJ added in this update is Library Protection. This is a pretty simple concept: they wanted a way to lock down libraries to avoid accidental removal or editing of a library. Maybe too many DJs have nosy kids these days who are deleting tracks from their libraries?
To use Library Protection, jump into the preferences and go to [Preferences] > [Advanced] > [Browse] > [Library Protection] and tick the box there to enable it. Editing and deleting tracks will be disabled to protect your library.
Other Changes + Improvements in Rekordbox 5.4.0
There's a slew of much smaller changes in the new update – here's what Pioneer DJ has shared with us:
Added a function to set a HOT CUE LOOP as an active loop. (Performance mode only) – meaning you can set a of HOT CUE LOOP (a loop saved as a HOT CUE) as an active loop. When you get to that part of the track, it loops. This is only in Rekordbox DJ, so you won't be able to use this on CDJs/XDJs.
Added an option to delete a track from a tag list when the track is loaded
Added an option to delete all tracks in a tag list when application quits
Added an option to reset coloring for played tracks
Added "Undo track load" to keyboard shortcuts – it's automapped to cmd/ctrl + z on new installs, but you'll have to manually map it if you updated – or just click the "DEFAULT" button in [Preferences] > [Keyboard] > [Browse] to assign to the initial value.
Added "Locate track loaded on deck" to keyboard shortcuts cmd/ctrl + l by default